Drivers Wireless Network & Wireless Cards
Description
Type
OS
Version
Date
Intel® Wireless Bluetooth® for IT Administrators

This download record is recommended for IT administrators and includes Intel® Wireless Bluetooth® version 22.20.0 distribution packages.

Driver
Windows 10, 32-bit*
Windows 10, 64-bit*
22.20.0


Latest

1/12/2021
Intel® PROSet/Wireless Software and Drivers for IT Admins

This download record is recommended for IT administrators, which includes driver-only and Intel® PROSet/Wireless Software version 22.20.0 distribution packages.

Driver
Windows 10, 32-bit*
Windows 10, 64-bit*
Windows 8.1, 32-bit*
3 more
22.20.0


Latest

1/12/2021
Intel® Wireless Bluetooth® for Windows® 10

Installs Intel® Wireless Bluetooth® version 22.20.0. Driver version varies depending on the wireless adapter installed.

Driver
Windows 10, 32-bit*
Windows 10, 64-bit*
22.20.0


Latest

1/12/2021
Windows® 10 Wi-Fi Drivers for Intel® Wireless Adapters

This download record installs the Windows® 10 WiFi package drivers 22.20.0 for the AX210/AX200/9000/8000 series Intel® Wireless Adapters.

Driver
Windows 10, 32-bit*
Windows 10, 64-bit*
22.20.0


Latest

1/12/2021
Intel® PROSet/Wireless Software and Drivers for Windows 7*

This download record installs Intel® PROSet/Wireless WiFi Software 21.40.5 including driver for Windows 7*. Driver version may differ depending on the wireless adapter installed.

Driver
Windows 7, 32-bit*
Windows 7, 64-bit*
21.40.5


Latest

2/18/2020
Intel® PROSet/Wireless Software and Drivers for Windows 8.1*

This download record installs Intel® PROSet/Wireless WiFi Software 21.40.5 including driver for Windows 8.1*. Driver version may differ depending on the wireless adapter installed.

Driver
Windows 8.1, 32-bit*
Windows 8.1, 64-bit*
21.40.5


Latest

2/18/2020
Intel® Wireless Bluetooth® for Windows 7*

This download record installs Intel® Wireless Bluetooth® version 21.40.5 and driver. Driver version varies depending on the wireless adapter and Windows* OS installed.

Driver
Windows 7, 32-bit*
Windows 7, 64-bit*
21.40.5


Latest

1/15/2020
Intel® Wireless Bluetooth® for Windows 8.1*

This download record installs Intel® Wireless Bluetooth® version 21.40.5 and driver. Driver version varies depending on the wireless adapter and Windows* OS installed.

Driver
Windows 8.1, 32-bit*
Windows 8.1, 64-bit*
21.40.5


Latest

1/15/2020
Intel® PROSet/Wireless Software and Drivers for Intel® Wireless 7260 Family

This download record contains the latest Intel® PROSet/Wireless Software and drivers available for Intel® Wireless 7260 Family.

Driver
Windows 10, 32-bit*
Windows 10, 64-bit*
Windows 8.1, 32-bit*
5 more
Latest


Latest

5/21/2019
Intel® Wireless Bluetooth® for Intel® Wireless 7260 Family and Intel® Dual-Band Wireless-AC 3160

This download record contains the latest Intel® Wireless Bluetooth® (including drivers) available for Intel® Wireless 7260 Family and Intel® Dual-Band Wireless-AC 3160.

Driver
Windows 10, 32-bit*
Windows 10, 64-bit*
Windows 8.1, 32-bit*
5 more
Latest


Latest

5/21/2019
Intel® PROSet/Wireless Software and Drivers for Intel® Dual Band Wireless-AC 3160

This download record contains the latest Intel® PROSet/Wireless Software and drivers available for Intel® Dual Band Wireless-AC 3160.

Driver
Windows 10, 32-bit*
Windows 10, 64-bit*
Windows 8.1, 32-bit*
5 more
Latest


Latest

5/21/2019
Intel® PROSet/Wireless Software and Drivers for Intel® Wireless 7265 Family (Rev. C)

This download record contains the latest Intel® PROSet/Wireless Software and drivers available for Intel® Wireless 7265 Family (Rev. C).

Driver
Windows 10, 32-bit*
Windows 10, 64-bit*
Windows 8.1, 32-bit*
5 more
Latest


Latest

5/21/2019
Intel® Wireless Bluetooth® for Intel® Wireless 7265 Family (Rev. C)

This download record contains the latest Intel® Wireless Bluetooth® (including drivers) available for Intel® Wireless 7265 Family (Rev. C).

Driver
Windows 10, 32-bit*
Windows 10, 64-bit*
Windows 8.1, 32-bit*
5 more
Latest


Latest

5/21/2019
Driver For Wireless Card
The problem, however, is that your computer cannot communicate with these hardware devices on its own, and this is where wireless and network drivers come in. Wireless and network drivers are software programs installed on your hard disk that allow your operating system to communicate with your wireless and network adapters. Download Toshiba Intel Wireless LAN Driver 17.0.0.34.0 (Network Card). Click "Network Adapters" in the list of devices. This will expand a list of all network adapters on the computer, including one that has the word 'wireless' in its name. If you can't find one labeled 'Wireless,' right-click each driver and select 'Properties.' The wireless card should say "Wireless Card" under "type.".
Most laptops nowadays include an Intel Pro/Wireless card and they are not usually updated automatically, that's the reason why we offer you the official updated drivers for your Wireless card.
This pack includes the driver versions for:
Intel® Wireless WiFi Link 4965AGN: 11.5.0.32
Intel® PRO/Wireless 3945ABG Network Connection: 11.5.0.32
Intel® PRO/Wireless 2200BG Network Connection: 9.0.4.37(32-bit OS support only)
Intel® PRO/Wireless 2915ABG Network Connection: 9.0.4.37
(32-bit OS support only)
Download it, decompress to any folder and update the Drivers in order to improve your Wi-Fi performance.
How to find and download network driver Lenovo Inc. Drivers & Software Knowledge Base & Guides How-tos & Solutions. Realtek: OS: Driver version: Realtek Wireless LAN Adapter 8187B: 2000 / XP / Vista (32/64) 6.1162.0610.2009: Download: Realtek Wireless LAN Adapter 8187SE.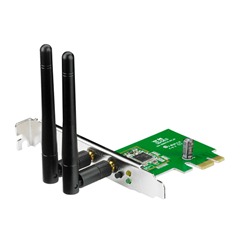 Update Wireless Card Driver
Notes
Hp Wireless Card Driver Update
It supports Windows 2000, Windows XP 64-Bit Edition, Windows XP Home Edition, Windows XP Media Center Edition, Windows XP Professional, Windows XP Professional x64 Edition, Windows XP Tablet PC Edition.
Comments are closed.